Long distance friends + grilled jerk-marinated halibut
Goddammit, we miss each other. 
How much of our lives comes from hugs, from leaning over at the dinner table and touching your friend on the arm when she says something funny, from meeting for oysters after work, from simply being—and eating—together? 
No matter your reason for being apart, it's a gift to miss someone. It means you love them—hard.
The Little Fish newsletter team is separated from our people: Julia and Anna have never in their lives been separated for this long, Niki can only wave at his newborn nephew from across a front yard, and Forrest's family lives many states away from his home in LA. 
To cover the distance, the Little Fish crew and their people cook together on Facetime while juggling their phones and glasses of wine, or make the same meals in different kitchens and eat them, miles away. Because people are for loving, and food is for sharing.
You can halve the recipe for two generous servings or make the full amount if you're lucky enough to have a quarantine pod to cook for, but we recommend going in with a long distance friend or family member, planning a night of cooking, coordinating on wine, and sitting down together in front of screens. 
Until we're together again.
Grilled jerk-marinated halibut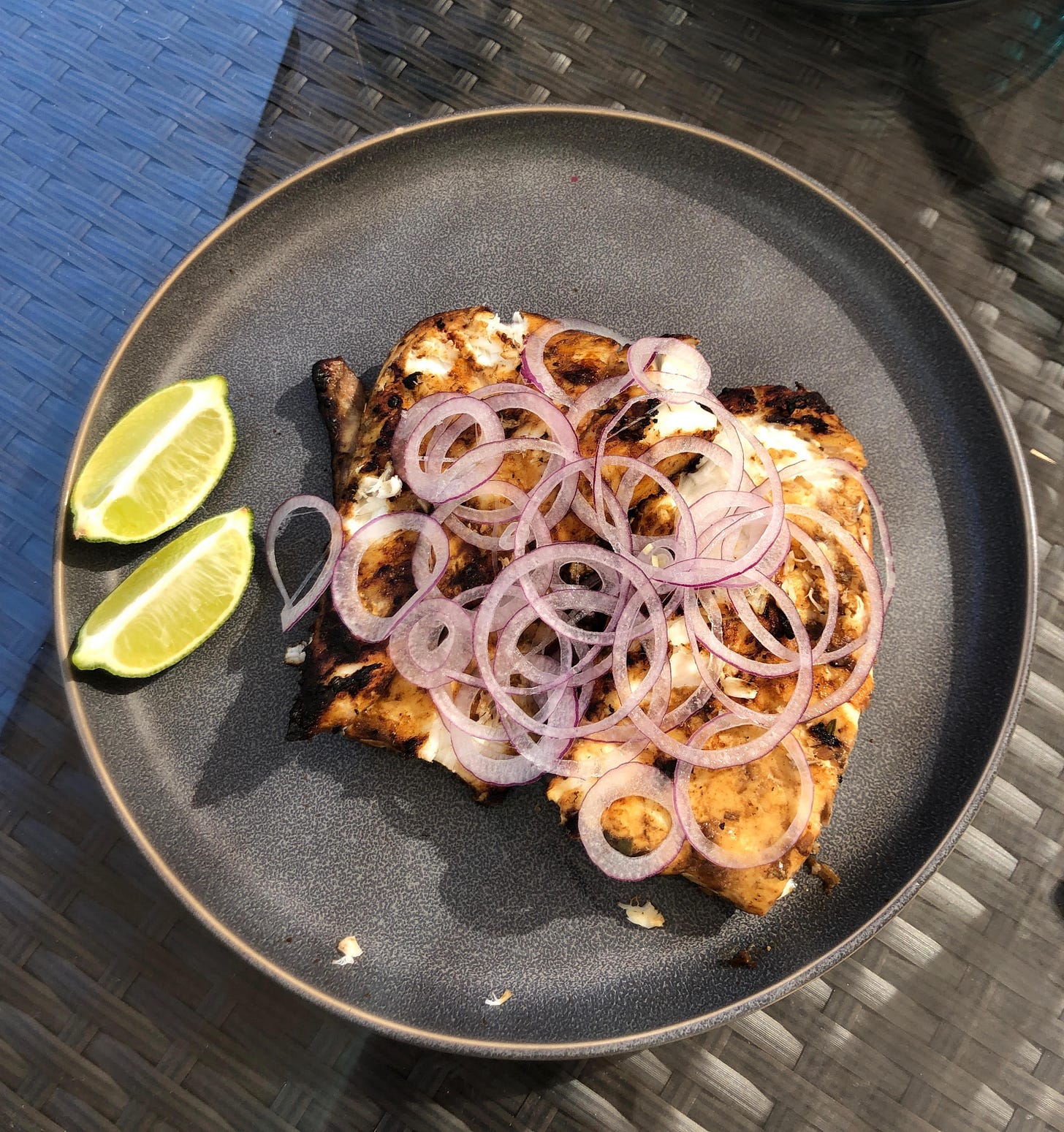 This marinade comes from last week's pop up, where we used it on squash. There's no doubt about it: This is a jerk chicken-inspired recipe. What you're smelling while this cooks are classic and time-tested components of jerk sauce like allspice, ginger, scallion, and habanero. While we're not trying to reinvent the (already delicious) wheel, we simply aimed to slightly rework the science behind the marinade for ever-delicate and sometimes fussy fish. Unlike sturdier chicken thighs, fish that sits for too long in acid will begin to cook, changing the proteins and texture. With this recipe, we worked on concentrating the ingredients as much as possible so that the flavor makes an impact in a short amount of time. We owe a debt to the jerk recipes that we learned from, like Bryant Terry's jerk tofu, Kwame Onwuachi's jerk chicken, and J. Kenji López-Alt's take. Be sure to check them out—if you like these jerk chicken-inspired flavors, you'll love the real thing. 
Serves 6
Note: When you're buying fish for this, ask for thicker pieces if possible. They'll hold up better while cooking. If you have thin pieces, reduce cooking time by 1-2 minutes per side. Lean fish like halibut can go from cooked to overcooked quickly, so keep an eye on it and check often!
Marinade
3 inch piece of peeled ginger, minced 
1 small sweet onion, diced
5 cloves of garlic, minced
1 habanero, seeded and stem removed, chopped
3 scallions, sliced
2 tablespoons vegetable oil 
2 teaspoons whole allspice
5 whole cloves 
10 coffee beans
2 ½ cups vegetable stock 
1 tsp chopped thyme 
¾ cup soy sauce 
⅓ cup Worcestershire sauce 
2 tablespoons tamarind puree (we found it at Lassens in LA, but if you don't see it just sub in an extra tablespoon brown sugar and two tablespoons lime juice)
2 tablespoons brown sugar
6 bay leaves 
Assembly
2 lb fish (halibut or any other lean white fish) 
Red onion (sliced thin)
Limes for serving
Cilantro 
Steamed white rice (we add a big pad of butter to ours before serving)
Directions
1. Heat 2 tablespoons vegetable oil in a medium stock pot over medium-low heat. Add the ginger, onion, garlic, habanero, and scallions and cook until softened and translucent but not browned, about 10 minutes. 
2. Toast allspice, cloves, and coffee beans in a dry sauté pan over medium heat until fragrant. Once cooled, blend in a spice grinder or mortar and pestle (if you don't have either, a blender will work, too).
3. Add spices to cooking vegetables and stir to incorporate. Add vegetable stock and cook over high heat for ten minutes until the broth has reduced slightly. 
4. Add thyme, soy sauce, Worcestershire, tamarind extract, brown sugar, and bay leaves. Bring to a boil, and then reduce to a simmer and cook for 30 minutes. Remove bay leaves and puree with immersion blender, blender, or food processor. Let blended marinade come to room temperature.
5. To prepare the fish, generously slather fish with marinade and leave uncovered at room temperature for 30-45 minutes. 
If grilling: Grill fish over a hot, preheated grill for 4-5 minutes per side (you're looking for a good char on each side). Use a toothpick to check for doneness: The toothpick should slide easily into the center with little resistance. (Make sure your grill is very hot. This will keep the fish from sticking.)
If broiling: Set over to broil on high. Place fish on an aluminum foil-lined baking sheet. Broil fish for 5 minutes or until lightly charred on top and then flip. Cook for about 5 more minutes. Use a toothpick to check for doneness: The toothpick should slide easily into the center with little resistance.
6. Serve over buttered rice. Add thinly sliced onions and cilantro on top, and drizzle with plenty of fresh lime juice. 
Marinade will hold for up to 10 days in the refrigerator. 
If you make a recipe from our newsletter, please tag us in pictures! You can find us on instagram at @littlefish_echopark.
Love,
Little Fish