Discover more from Little Fish Echo Park
A twice-monthly seafood recipe in your inbox and a weekly pop up in Echo Park.
Over 1,000 subscribers
Seafood love + treviso salad
We all came to seafood in different ways—from nostalgic East coast parents steaming crab legs from Costco to dipping fish sticks in ketchup in front of "The Simpsons" to finding the perfect bagel and lox. 
Nowadays, we try to use seafood as our protein as often as we can, which sometimes means eating a can of tuna with a fork. We're passionate about seafood for so many reasons, but it's pretty simple: Seafood always feels special, no matter how complex the dish. There's something inherently celebratory about it, something that makes it stand out among weeknight meals, and it's a celebration within our reach. What's more: The Little Fish newsletter team lives on both coasts of the country, and it feels important to all of us to use what's available and to support a local and sustainable practice. Seafood is a way to take care of our bodies and the world around us.
And finally: Seafood is good. It's delicious, it's versatile, it's a universe. 
We know that for people who didn't grow up eating fish or are new to cooking, seafood can be intimidating. Our goal is to help make seafood feel accessible, whether you're new to cooking or an expert. We want to answer questions, demystify processes, and be a community around cooking and eating together.
In this twice-monthly newsletter, we'll send seasonal recipes, information about sourcing and preparing fish, and stories about seafood love. 
Our first recipe answers the sometimes-frustrating question of what to serve with seafood. It's the treviso and celery salad we served at last week's pop up—which we'll be serving at our next fish fry on Sunday, October 18.
Treviso salad
This recipe started with treviso—a bitter chicory—which began coming into season in the fall. We added celery for texture and crunch, and the bite of the turnip helps cut the bitterness of the treviso. The pistachios and olives add a savory nuttiness, and the vinaigrette seasons the salad and brings out the flavor of the produce without overpowering it. Every part of this salad is something we like to eat individually, but they're even better together. 
If you'd like to make this dressing vegan, substitute the anchovies with either 1 teaspoon dijon mustard, 1 teaspoon umeboshi paste, or a pinch of MSG. The dressing will last for up to two weeks in the fridge and tastes great on any other salad greens or even drizzled over white fish (more on that after the recipe).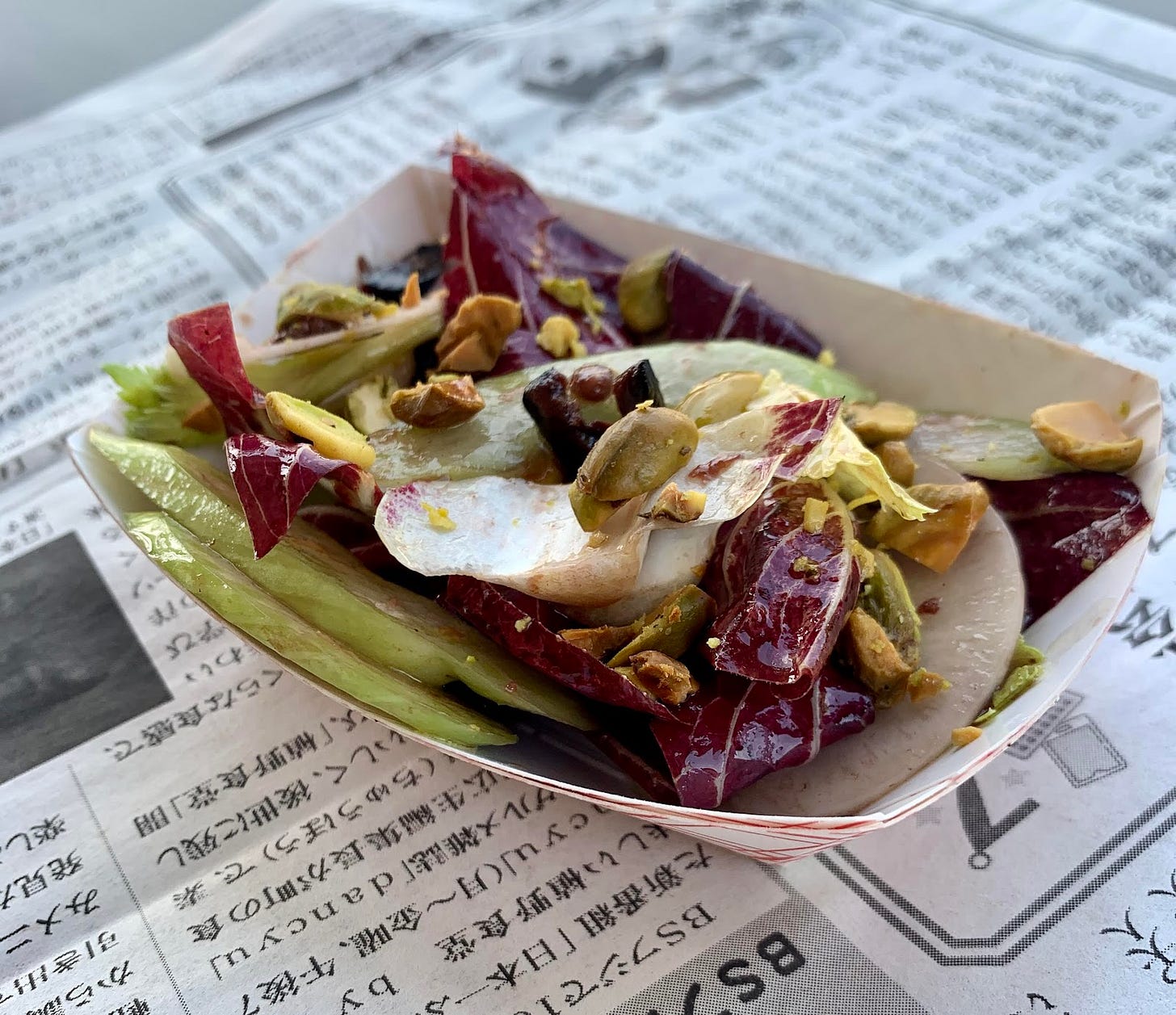 For the salad
1 head treviso (or radicchio) washed and sliced crosswise into strips about ¾ inches wide
6 stalks celery with pale green inner leaves cut thin on a bias (a diagonal angle). Save the leaves to garnish
2 Tokyo turnips (or any white turnip) sliced into thin coins
¼ cup oil cured black olives (We like these, but you can find some at most Italian markets), pitted and quartered
¼ cup raw pistachios, shelled
1 teaspoon extra virgin olive oil
salt and pepper
For the dressing
3 tablespoons + 1 teaspoon merlot vinegar (Here is a great one, but if you can't find any you can use red wine vinegar)
3 tablespoons extra virgin olive oil
2 oil-packed anchovies, finely chopped (We use these, but love these too)
1 lemon, zested
1 tablespoon lemon juice
1 small clove garlic, microplaned (You can use your zester)
To prepare
1. Pre-heat oven to 325 degrees. Line a baking sheet with parchment paper. Toss ¼ cup raw pistachios with 1 teaspoon olive oil to coat. Season generously with salt and pepper. Bake until lightly browned and fragrant, about 10–12 minutes. Let cool to room temperature. 
2. In a small bowl, whisk together vinegar, 3 tablespoons olive oil, anchovies, lemon zest, lemon juice, and garlic clove.
3. In a large bowl combine treviso, celery, turnips, olives, and cooled pistachios and toss with dressing to your liking. (Ideally, you'll use enough dressing to coat each piece, but not so much that it pools at the bottom of the bowl.) 
4. Season to taste with salt and pepper and garnish with reserved celery leaves. 
5. Eat alongside your fish of choice! We like this with any kind of mild white fish or seared tuna.
Fish to pair with the treviso salad
California halibut is a lean white fish that won't forgive overcooking, so sautéing or broiling are your best bets. You won't be able to find it at the grocery store, so we recommend heading to the local fishmonger. If you live in LA, try Dory Fleet or Ventura Fisherman's Market on the weekends. 

Seared tuna or opah will pair well with this acidic salad as they have some of the highest fat content of any fish. Cook to medium rare to bring out the rich flavor and tender texture. Luxe Seafood in LA carries excellent tuna and Pierless Fish in New York is currently selling Atlantic opah. 
We'll have halibut, tuna, and opah recipes headed your way in the coming weeks. 
If you make a recipe from our newsletter, please tag us in pictures! You can find us on instagram at @littlefish_echopark. If you're in LA, our next fish fry is Sunday, 10/18.
Love,
Little Fish